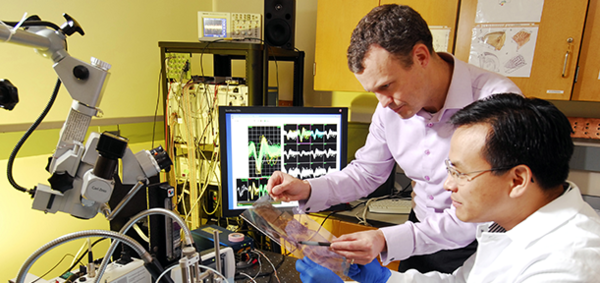 What is Biomedical Engineering?
The Biomedical Engineering (BE) fields of application are varied and of very much interest, for BE seeks to provide solutions to healthcare challenges by the use and application of engineering and technology, focusing on improving human health at all levels.
Among the main fields of application regarding #BiomedicalEngineering, we can state the following:
Bioinstrumentation

Biomaterials

Biomechanics

Clinical Engineering

Medical Devices

Biomedical Information Technologies

Regulatory Affairs
In our developing world, constant advancement in healthcare is very important, specially if we consider the evolution and spread rate of diseases. Biomedical Engineering offers patients across the world a chance to get diagnosed, treated or rehabilitated using technologies created by researchers and engineers that studied a career in a field of biomedical engineering. Medical practitioners worldwide are benefited by using medical devices that help them offer better diagnostics, treatment or rehabilitation programs to patients in healthcare institutions.From medical implants, vital sign monitors, nanotubes, prosthesis, electronic health records, and imaging technologies, each advancement in this discipline has marked a footprint in human history, for technology have been proved to be an indispensable tool healthcare advancement.
#BiomedicalEngineers can have many names. The World Health Organization #WHO in its most recent publication regarding this matter, Human Resources for Medical Devices, the Role of Biomedical Engineers, mention the following specialties (extracted directly from and exactly stated in the electronic booklet, please read more here: http://bit.ly/2s2KzxD) :
B

iomedical Engineering Technician/Technologist: Front-line practitioners dedicated to the daily maintenance and repair of medical equipment in hospitals, meeting a specified minimum level of expertise. BMETs who work exclusively on complex laboratory and radiological equipment may become certified in their specialism, without needing to meet the more general professional engineering requirements. The difference between a technician and a technologist relates to the level and number of years of training. Normally technicians train for two years, technologists for three years, but this can differ per country.



Rehabilitation Engineers: Those who design, develop and apply assistive devices and technologies are those whose primary purpose is to maintain or improve an individual's functioning and independence to facilitate participation and to enhance overall wellbeing.



Biomechanical Engineers: Biomechanical engineers apply engineering principles to further the understanding of the structure of the human body, the skeleton and surrounding muscles, the function and engineering properties of the organs of the body, and use the knowledge gained to develop and apply technologies such as implantable prostheses and artificial organs to aid in the treatment of the injured or diseased patient to allow them to enjoy a better quality of life.



Bioinstrumentation Engineers: Bioinstrumentation engineers specialize in the detection, collection, processing and measurement of many physiological parameters of the human body, from simpler parameters like e.g. temperature measurement and heart rate measurement to the more complex such as quantification of cardiac output from the heart, detection of the depth of anesthesia in the unconscious patient and neural activity within the brain and central nervous system. They have been responsible for the development and introduction of modern imaging technologies such as ultrasound and magnetic resonance imaging (MRI).
There are numerous groups and entities that represent Biomedical Engineering, from which we can mention the following examples:
International Federation for Medical and Biological Engineering (IFMBE):

IFMBE's Website

Association for the Advancement of Medical Instrumentation (AAMI):

AAMI's Website

Mexican Society for Biomedical Engineering (SOMIB):

SOMIB's Website
We can conclude that when we speak about healthcare, Biomedical Engineering is included as the main actor and responsible subject when it comes to technology. If you are interested in learning more about a specific area, make sure you visit our BE Education section in our www.iambiomedical.com or get in touch with us to answer your questions.