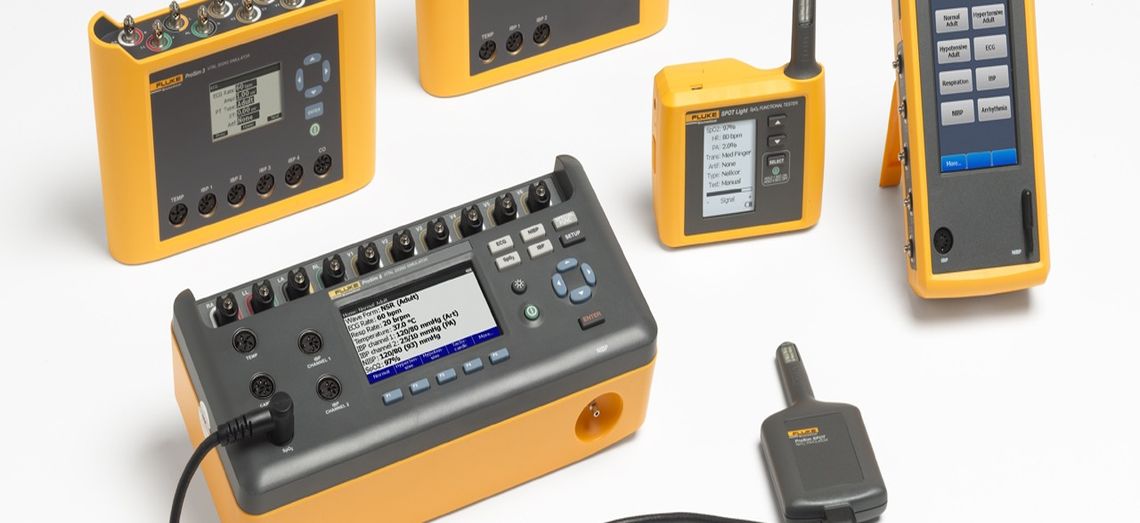 Biomedical Metrology Basics in a Vital Signs Monitor
When we speak about scheduled maintenance, calibration or verification of medical equipment, we have to speak about measurements. Biomedical Test Devices are used to either simulate or analyze measurements in medical equipment, they are very important to guarantee the correct functionality of medical equipment in a quantitative and justified way. In this #BEBlog, Art Tecnica shares with us the main parameters that can be either simulated or analyzed for quality assurance in a Vital Signs Monitor.
Biomedical Test Devices
Before starting with the good stuff, let's see which are the necessary devices to carry out proper quality assurance procedures with a Vital Signs Monitor:
Patient / Vital Signs Simulator
These devices help us simulate traceable parameters in any hemodynamic monitoring device, such as vital signs monitor, oximeters, electrocardiographic devices, and even defibrillators ( in their cardiac sync mode). They are used for the parameter verification, as well as for calibration, scheduled maintenance, and fixing procedures in medical equipment. To assure you're your simulators' measurements are traceable, make sure to have it calibrated and certified by a capable and authorized metrology service provider that has the faculties to create official and traceable metrology certificates for your device.
You can learn more about Patient / Vital Signs Simulators here.
Electrical Safety (ES) Analyzers
ES Analyzers are devices that help us measure all that's related to the powering of the device, as well as the voltage and current behavior inside it. These powerful tools can be used to test any medical equipment that is either powered by connection to a wall socket or powered by batteries, because in either case, there is an electrical risk than can potentially end up harming both patients and healthcare professionals if something is not functioning properly. ES Standards are created by normalization/standardization organizations worldwide so that the test results can be compared to their specifications. Some examples include the worldwide adopted IEC 60601, its adjusted version IEC 62353, and others recommended by AAMI/ANSI and NFPA.
You can learn more about Electrical Safety Analyzers here.
Important Indications
Please have in mind the following considerations before start testing:
Consider this text as recommendations to create and execute biomedical metrology protocols.
Use verification protocols recommended by the manufacturer of the medical equipment or the service manual.
Calibrate and certificate your test device that you will be using with an authorized provider and have the certificate at hand to be used as evidence and to consider tolerances.
Use safety equipment to avoid any type of risks, like electrical, mechanical, etc.
Measure at least three times each parameter to have an average of more than one measurement as a result.
To compare your results, use the technical specifications sheet of the medical equipment. You will most probably find either the standard or the accepted ranges to be considered in each parameter's measurement.
Hemodynamic Parameters
All set! Now, lets take a look at the parameters we can simulate to a Vital Signs Monitor to verify its current state. Remember to measure at least three times to that you can have a more accurate result.
Invasive Blood Pressure
Non-Invasive Pressure
Temperature
Cardiac Output
ECG Wave (in screen and printed)
Sinus Rhythm (normal and arrythmia)
Respiratory Frequency
Oxygen Saturation
Each equipment manufacturer has established inferior and superior parameter ranges so that healthcare professionals can know when a patient's vital signs are out of range. These thresholds are adjustable in the majority of the Vital Signs Monitors, hence it's important to verify that the equipment's alarms work properly for each parameter. Modify these thresholds and simulate parameters that exceed these limits to observe the equipment's reaction. Verifying this can really make the difference on saving someone's life.
In most of the cases, the monitors have profiles to set the equipment's behavior and thresholds for a specific type of patient, or example neonatal, pediatric or adult. Check if the monitor has these profiles available and check the functionality by simulating parameters using the Patient/Vital Signs Simulator.
Electrical Safety Parameters
Most Vital Signs Monitors are powered by connection to a power source (electrically powered wall socket), and even can work using batteries. The ES parameters seek to understand what's the power supply's current effect/behavior in the medical equipment, as well as detecting possible leakages that can affect both the patient and healthcare professional. What we have to do first, is find out which standard should we use to compare our results in order to set the ranges/limits we will use to determine if the test passed or failed.
These standards are normally indicated in the technical specifications sheet offered by the manufacturer, but a regulation in your country might also apply so be sure to check with your local Biomed Society or Regulatory Agency.
These are the main parameters considered in ES testing:
Mains Voltage
Votage (Point to Point)
Equipment Current
Earth Resistance
Applied Parts Leakage Current
Chasis Leakage Current
Earth Leakage Current
Insulation Resistance


Content Powered and Created by Art Técnica
Seeking to improve your Biomedical / Medical Equipment Metrology /Maintenance skills? Reach out to Art Técnica and receive free orientation regarding biomedical test devices and their applications. They are a very talented Mexican company with operations in all the Mexican territory with over 10 years of experience in the metrology and medical equipment maintenance field. They are based in Mexico City and are official distributors for Fluke Biomedical devices.
Reach out to them by sending an email to ventas@artecnica.com.mx or visit their website here.